Jahdia drumming can bring African music and dance to all your corporate and private events…. Contact us for private performances, team-building workshops, birthday and school parties, weddings, hen nights and charity events!
Entertaining. Inclusive. Energising.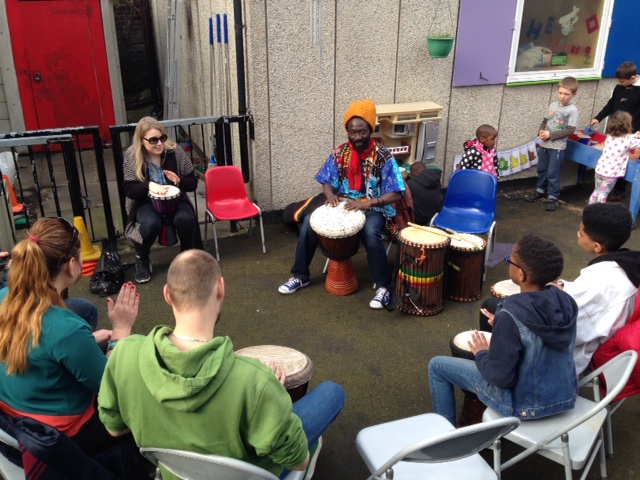 We had a fantastic time with Dia – he was amazing and everyone came away feeling elated and still singing away haha"!!
-Anna, team building workshop
We were absolutely impressed by Jahdiafolila who were an awesome addition to our monthly flagship event. The audience absolutely loved them and it was wonderful to have such fantastic musicians start off the night. We look forward to working with them again
- Maggie (drumming performance, charity event)
I booked Jahdiafolila's entertainment for my 3 years old twin Birthday. They loved it. They are asking me know when the musician will come back!
- Iram (kids parties)
The children and staff of Northway School had a fantastic afternoon! Thanks for making our Black History Celebrations so special. Lets hope we can make this happen again next year!
-Tapioca, Class Teacher and Numeracy Coordinator(school event)
I just wanted to say that Dia was fantastic, his performance was excellent and it really fitted in well with the activities of the day. He is also really friendly and a pleasure to have attending our event. The wedding was a success. Everyone was very moved by his performance after our blessing and I would definitely book or recommend Dia for future events.
- Ellis and Sarah (wedding)
Many thanks to Dia for an excellent drumming session at our Refugee Drop In party. The atmosphere was great and everyone participated including the youngest children who danced in the middle of the circle of 50 participants and played percussion. It was an inclusive and uplifting experience and brought much joy to all of us. Dia has a warm and vibrant personality and made sure we all had great fun and left with a smile.
- A, North Western Reform Synagogue (charity event)